We recently conducted research using LinkedIn to explore how businesses are using social media; we found that 71% of participants had a social media strategy in place in their organisation and 73% use social media to create brand awareness, while 13% use it to support customers and 7% for lead generation. 7% said they use it for a mixture of all three.
Social media can be used as a powerful marketing tool to raise brand awareness, engage with your audience and create leads when implemented correctly, due to its ability to deliver emotive messages. 
As a result of the pandemic, 50% of participants said their usage of social media had doubled, while 50% said their usage had trebled or more in the last 12 months. The increasing reliance on digital in an ever-changing digital world means brands need a strong social presence to reach, engage their audiences and stay competitive. 
LinkedIn and Twitter are the most effective social media platforms for B2B communication, while Facebook, Twitter and YouTube are the most effective for B2C with the increased use of video and visual content to engage with consumers. 
To achieve maximum impact with Twitter it is essential to nurture and build your following into a valuable community, through a combination of tweeting frequently, utilising hashtags, and engaging with tags, retweets and replies.  
It is important your branding is consistent on all your social accounts, for example that your Twitter and Instagram handles match or the profile and header photos are consistent throughout your social media so that you are easily recognisable.
Goals and Strategy
To be successful on social media it is advisable to set out clear goals and a strategy of how you aim to achieve them, from the outset. This will ensure your messaging is coherent and relevant to the audience you aim to attract. It sounds obvious and simple, but the temptation to post all and sundry is prevalent. 
You can do this by creating SMART targets that align with your business objectives and that can be broken down into measurable indicators of what you want to achieve from your social media and know when you have achieved them! You will then be able to create a schedule of how you plan to achieve this. Through creating a 30-day content plan, you're likely to be more effective in your marketing approach as you can assess your content and whether you're sharing a balance of promotional, personal and informational posts. 
Streamlined Approach & Analyse Results
The use of social media management platforms such as Hootsuite and Sprout Social allow for a more streamlined marketing approach through creating a dashboard to manage all your social channels, allowing you to schedule, create and analyse posts from different social channels all in one place. Our research found that 54% of participants always use analytics to plan and review social media posts, while 31% sometimes use them. Metrics such as impressions, engagement and new visitors to your site help to analyse how effective your content is or whether the use of specific hashtags is leading to new visitors to your page. By analysing your posts throughout the 30 days you can change or tweak posts based on how effective previous posts have been. 
Our survey found LinkedIn was the most popular social media channel for companies, with 81% of those surveyed saying they use Linkedin as their main channel. LinkedIn is now established as a platform for regular professional communication with companies and individuals in similar industries, it provides a place to share content with like-minded individuals, with 80% of B2B social media leads coming from LinkedIn. It is also great for engaging employees and encouraging them to share content on their personal page, leading to a bigger audience reach. Through featuring keywords on your Linkedin page, you can boost the SEO of your page, which helps create more traffic to your page and make it easier for potential clients to find you. It is important to have a strong about section on your page that clearly outlines the company vision of what you aim to achieve, how you achieve it, your core values as a business, your positioning in the market that makes you a differentiator, and a brief overview of the products and services you offer.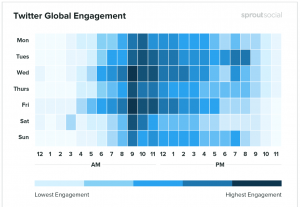 The change in social media algorithms towards relevance-based timelines means marketers need to be more proactive in posting relevant content that will maximise engagement. Research suggests that the start of the working day at around 9am is the best time to share content on most social media platforms. Sprout Social conducted their own data analysis and found that the best times to post are Wednesdays and Fridays at 9am and Saturdays are the least effective days (Sprout Social). It is not only important to post content at the correct time but it also important to be consistent in how often you post, so you're not sharing too little but you're also not bombarding your audience with irrelevant content, instead you want to ensure the content you're sharing is relevant and that your audience will engage in
To be most effective in using social media as a digital marketing tool, it is important to focus on executing a couple of channels well rather than trying to have a presence on them all. Carrying out research on which platforms will suit your business model the most, you can be more effective with your marketing and create more awareness and generate more leads as a result. 
SEO and Social Media are a match made in heaven!
A good presence on social media channels will drive traffic and now plays an integral part in your SEO Performance. The reason for this is that in the search for high quality information, search engines are capitalising on individual social networks. The pages coming up first are now to some extent determined by social activity and behaviours online. In short, every move we make (queries, shares, likes etc) helps establish what we see for specific search results each day. 
So, in summary, having a social media strategy is now key for both B2B and B2C marketing, as it is clearly here to stay and will play an increasing role in the ever-evolving search engine algorithms, whilst providing a platform that is best suited for allowing you to stir an emotional response. 
The creators of Facebook, Instagram, LinkedIn, and every other social media platform designed their apps with engagement in mind and those who learn how to authentically engage are rewarded with followers, comments, and leads for their business.
Now after reading that and agreeing that the former makes perfectly good sense, I'm sure you are asking yourself, "Well how do I get people to engage with my content?". After planning, writing, and posting to no avail you will be thrilled at how simple and again obvious the answer is…
USE SOCIAL MEDIA FOR WHAT IT'S MEANT FOR… BEING SOCIAL. 
Posting on social media and getting no engagement is like throwing a party and no one showing up. But before you feel too sorry for yourself you should ask yourself this question, "Did I invite people to my party?" Well did you? First things first, you must promote your social media accounts through both organic and paid marketing. . Here are 5 ways to engage your followers and be more social on social media:
1) Talk about topics other than your brand. Let your website be your soapbox and your social pages be where you are… social. Social media is your opportunity to show your brand personality! Talk about trending topics within your niche and ask questions for your audience to answer. Post niche related quotes and add relevant hashtags to your content. Another great idea is to create polls and surveys for your followers. Not only will this encourage engagement and comments, but you will also learn something… you have a ready and willing focus group literally at your fingertips.
2) Reply to comments. It is important for your audience to engage with your brand and it is equally important for your brand to engage with its audience. If you ask your followers a question take the time to reply to their answers, both compliments as well as complaints. Use your account to display your amazing customer service!
3) Make your page visually appealing. It is extremely important that your social media feed be aesthetically pleasing and cohesive. The digital space is a highly visual space. Use images and videos. Studies show that people engage with photos and videos up to 80% more than text alone.
4) Don't be one-sided. share other people's content. Sharing, liking, and commenting on your follower's accounts is a great way to connect with your audience and really create a genuine connection. It's also good to engage with social media accounts that are not currently following you, doing so engages the attention of not only the account that you comment on, but it will be seen by all of their followers as well.
5) Hire someone to engage for you. Social media marketing is a full-time job. It can be overwhelming to have to manage all your brand's social accounts while still managing the day to day operations of your business. If you need help with the planning, creating engaging content and managing your social media please contact iQ Media.
IQ Media is a trusted and creative digital communications agency here to help you with all your digital marketing needs. Contact us to learn more about how IQ Media can help you.  Schedule a 30-minute consultation here.