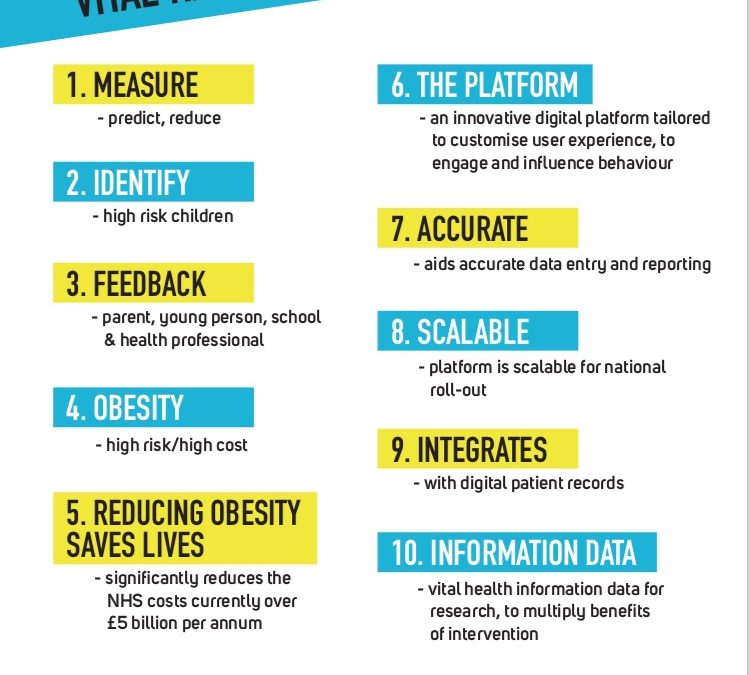 IQ Digital Health wins Health Innovation Manchester Award to help combat Child Obesity, through the development of an innovative digital platform.
The Child Health Monitoring Programme (CHAMP) is to to be developed by IQ Digital Health working in partnership with Manchester University NHS Foundation Trust (MFT)
The  award will support the development of a innovative digital platform to significantly enhance the identification, and reduce the incidence of obesity in children and young people, with the collection of evidence based data.
The main objective of the project is to develop a web based platform that is scalable, and accessible by multiple users including patients, carers, health care professionals, academic, clinical and data scientists.
Government statistics show that nearly a third of children aged 2 to 15 are overweight or obese and younger generations are becoming obese at earlier ages and staying obese for longer.
Reducing obesity levels will save lives as obesity doubles the risk of dying prematurely.
Obese adults are seven times more likely to become a type 2 diabetic than adults of a healthy weight which may cause blindness or limb amputation. Obese people are more likely to get physical health conditions like heart disease, they are also more likely to be living with conditions like depression.
The innovation will create a platform that not only helps to accurately identify and reach those most at risk, but engages with them and their parents on an ongoing basis, to educate and motivate to bring about significant and sustainable changes in behaviour.
Simon Poyser Managing Director of iQ Digital Health a division of iQ Media added
'We are delighted to have won the Health Innovation Manchester Momentum award and to be working with the team at MFT, to build on and extend their groundbreaking work.
This is a great and very significant use of digital health that will significantly reduce childhood obesity, by using the technology to improve outcomes, focus on prevention, reduce healthcare service dependency, by improving communication with both the patient and HCP. This will be achieved by developing CHAMP into a scalable, multiuser innovative digital platform, with a responsive design and contemporary user interface.'
iQ Digital Health specialises in the development of innovative digital solutions for the healthcare sector.
We work in collaboration with industry, healthcare professionals, clinical scientists and patients to develop solutions that enhance the development of technology enabled care (tec), to help improve the prediction, prevention and treatment of disease, to provide people with greater control over their own health and care,
Please contact iQ Media for more information and for a discussion on how we could assist with your digital health requirement.